Improving Bottom Line Results With a Transformative Pricing Strategy
Case Study: Foodservice
To improve bottom line results organizations often look at their profitability ratios/margins to find strategic opportunities. Our client suspected that their margins would improve with a pricing strategy that was more in line with their business objectives, however they needed a better understanding of how to do it.
Pricing Solutions built a project plan that began with a series of quick wins which resulted in bottom line gains. Following the quick wins, a transformative pricing strategy was recommended based on segmentation and research results determined through client data.
Finally, Pricing Solutions assisted in all aspects of the implementation of the updated pricing strategy, offering training and support to supplement and align the team.
The pricing efforts resulted in major gains for the client including bottom-line gains, confidence in pricing methods, sales organizational pricing alignment and an adjustable pricing strategy which was implemented and supported by a pricing tool developed specifically for the client.
---
The Challenge
The multimillion dollar foodservice client experienced significant business growth however the client felt their low margins were holding them back from potential profits. The low margins were the result of a pricing strategy which:
Established prices on "one-off" basis with little consistency among customer or product segments
Did not incorporate competitive benchmarks or reasons behind wins/losses
Drove high fulfillment costs due to distributors being able to place small and frequent orders
Was run by the sales force who had limited guidance or incentives to increase margins
Pricing Solutions objective was to develop a pricing strategy that incorporated existing data and customer research.
---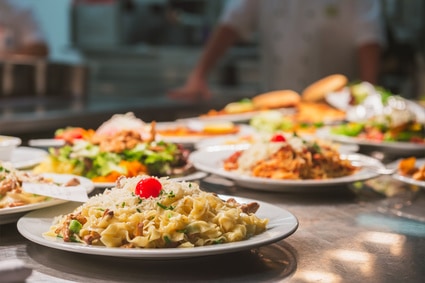 ---
Building a Solution that Fits
The Pricing Solutions team was able to deliver a 3 part solution which led to short, medium and long term gains. The comprehensive end-to-end solution included:
1. Quick Wins
Identified pricing opportunities based on industry best practices
Established bracket structure to drive distributor order behaviour including: efficient order allowance/inefficient order surcharges
2. Comprehensive Pricing Strategy
Segmented customers based on value provided and received
Segmented products based on value differentiation as perceived by customers
Established floor, target and expert price levels for all customers/product segment combinations based on GM goals
Identified specific pricing opportunities through comparing current pricing levels with new pricing targets
Developed easy-to-use pricing tool to enable fast & consistent price calculations based on customer & product segments
3. Personalized Implementation & Support for each recommendation
Assisted implementation planning
Sales incentive program to reward achievement of target
Custom-made & delivered sales training
Continuing & on-going support
---
The target market pricing matrix. Displays what margins should be for product/customer segments
dark green = high margins, red = below threshold margins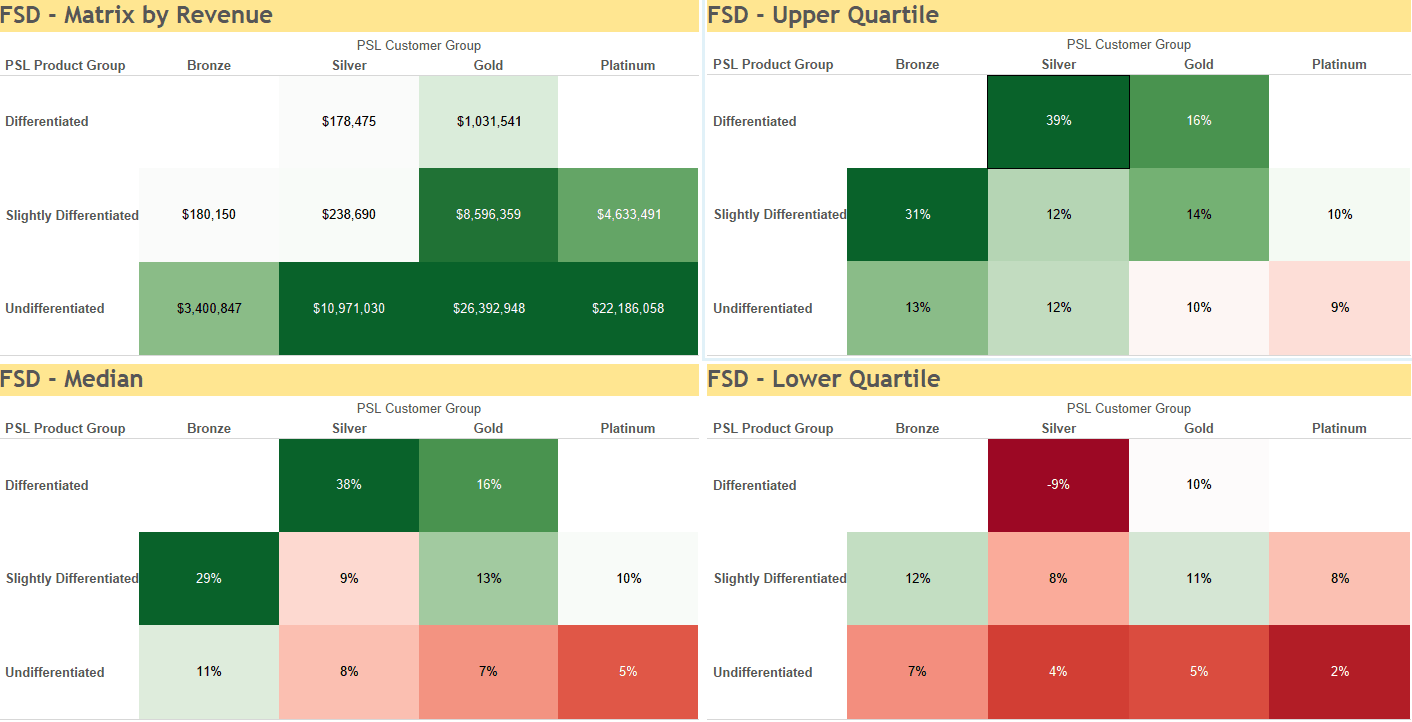 Above:Our client's target pricing matrices at the start of the project

Above:The client's target pricing matrix at the end of the project
---
The Result?
Within 4-6 months short, medium and long term gains were already being realized. The client gained all of the aforementioned deliverables but also benefited from:
2-3% in annual, short term bottom line improvement through achievable pricing opportunities
Greater confidence in pricing methods & decisions through a company-wide pricing culture change
Consistent & sustainable pricing processes which were implemented and supported by the Pricing Tool & the Pricing Solutions team
---
What's the Pricing Solutions Difference?
Pricing Solutions integrated approach to pricing strategy uncovered pricing opportunities the client hadn't previously considered. The project merged existing and new data combined with customer research and insights to create a winning strategy. In addition Pricing solutions successfully led the project through the development, implementation and support of the new pricing strategy. The client not only gained a winning strategy but they were able to put their new pricing strategy into practice and more importantly see positive results.